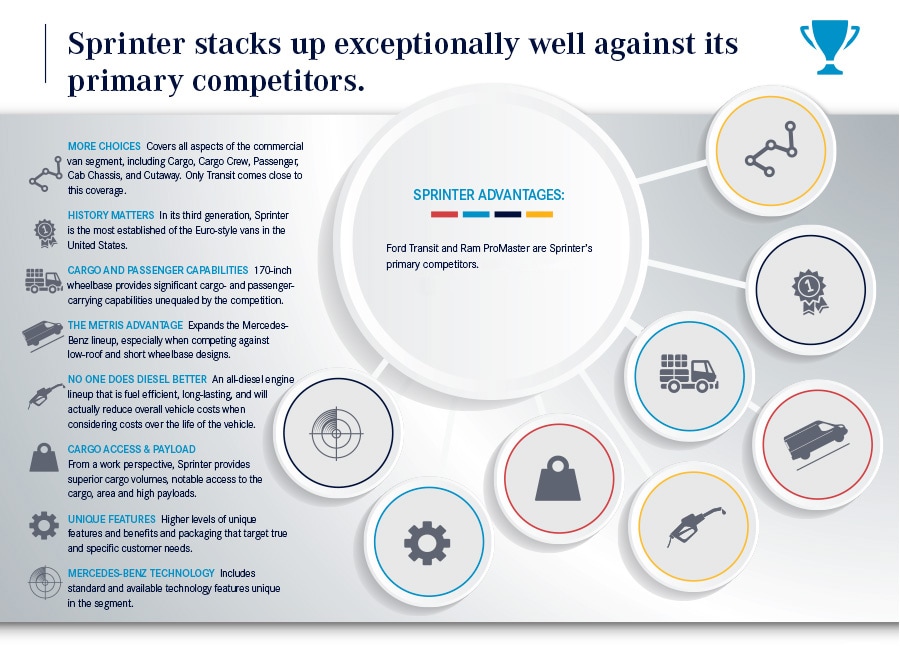 Compare the Mercedes-Benz Sprinter to the Ford Transit near Boston, MA
    If you're in the market for a commercial van that's versatile, spacious, long-lasting and utterly capable, the Mercedes-Benz Sprinter van is right for you and your business. Renowned for their history of long service intervals and impressive capacities, the line of Sprinter vans available at our Sprinter dealership near Boston, MA, is sure to please drivers looking for the very best in their commercial van. If you need a new van that will help you safely transport all of your gear and crew, the Mercedes-Benz Sprinter line stands above competitors like the Ford Transit. 
Want to know why a Sprinter van is the clear-cut best choice for New England businesses? 
Better Packages and Features
    The Mercedes-Benz Sprinter is your best bet if you're looking for a suite of features that meet your specific needs and requirements. Options like the Driver Comfort Package, Driver Efficiency Package and Active Safety Plus Package allow you to customize your Sprinter to meet your precise needs.
 4X4 Capabilities
    Unlike competing Transit models, the Mercedes-Benz Sprinter can be equipped with a 4X4 drivetrain. For New England drivers who know all too well what it's like to navigate tough terrain and handle tricky winter conditions, this is a must-have feature that speaks to the Sprinter tradition of providing a safety-focused and versatile ride.
Cargo & Passenger Capabilities
    Thanks to its wide selection of wheelbases, door options and cabin configurations, the Mercedes-Benz Sprinter is the most versatile commercial van in the industry. The 170-inch wheelbase model provides cargo- and passenger-carrying capabilities that the competition just can't match, along with allowing easy access to said cargo. Additionally, Sprinter offers a Crew Van body style that the Transit lacks altogether. 
Standard Features
    You get incredible value when you purchase a Mercedes-Benz Sprinter thanks to its long service intervals of 20,000 miles. Perks like Bluetooth® connectivity, an auxiliary and USB input, outside temperature display, 5-way adjustable driver and front passenger seats and front air conditioning come standard in every Sprinter. Amenities like a tinted windshield, side-view mirrors with convex low mirrors and integrated turn signals, full-length protective side moldings and daytime driving lights are also among standard offerings.
    Need more convincing that a Sprinter van will meet all of your needs and help your business run at its best? Compare the Mercedes-Benz Sprinter to the Ford Transit below, then get in touch with Mercedes-Benz of Boston -- Sprinter to discuss your options today!